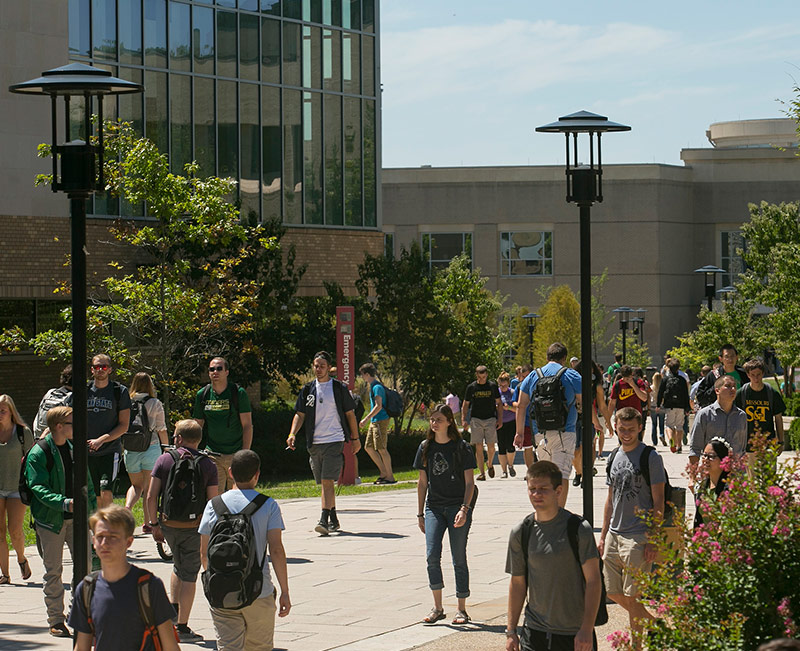 Discover Days
Discover Days are visit days that run from 9:30 am – 2:30 pm. Similar to an Open House, you will get to visit an academic department, take a campus tour, and learn more through an admissions and financial aid presentation.
Discover Day Dates
Discover Day Agenda
FAQ's
Parking and Directions
Local Hotel and Lunch Options
Discover Day Dates
Register for a Fall 2023 Discover Day event by choosing a date below:
To visit campus on another date, check out our Open House events or Daily Visits.
Discover Day Agenda
DISCOVER DAY AGENDA
9:30 am | Check in at Havener Center

9:45 am | Admissions and Student Financial Aid presentation, Student panel

11:00 am | Academic department visit*

12:00 pm | Lunch on own

12:30-2:30 pm | Student Design Center, Fitness Center, Campus and Residential Life tours**

*Academic department visit of your choice based on your selection during your online registration.
**These activities are optional. Visitors may choose to end their visit after the academic department visit. If available, the Student Design Center, Fitness Center, and the Residential Commons residence hall will be open for drop-in/walk-in traffic between 12:30-2:30 pm. A walking campus tour will be available from 12:30-2:30 pm, with the last tour departing from the Havener Center at 2:00 pm.
FAQ's
Q: Do I need to register to attend Discover Day?
A: We strongly encourage you to register for a Discover Day event and not arrive as a walk-in/drop-in.
Q: What time do I need to be at my event?
A: You will check-in for Discover Day at the Havener Center at 9:30 am. The welcome presentation will start at 9:45 am. Visitors can choose to leave campus at 11:45 am after the academic department visit ends. There are optional activities between 12:30 pm and 2:30 pm.

Q: Where is my event held?
A: Discover Day will be held in the Havener Center and academic department visits will be held in their offices within buildings across campus.
Q: Are meals provided?
A: A lunch coupon will be provided to the student that can be redeemed at the Havener food court. Guests are responsible for covering their lunch. Please note that the Havener food court is a cash-free establishment. Click on the "Local Lunch Options" tab for off-campus area options.

Q: What should I wear?
A: Comfortable shoes are recommended as you will be walking to various locations across campus. We also recommend bringing a refillable water bottle and checking the weather to see if you need an umbrella.

Q: Where do I park?
A: Discover Day visitors are permitted to park in parking Lot E on their event date. You must print off the parking pass and have it displayed on the front dash of your vehicle to avoid being ticketed. A campus map can be found HERE. A parking lot map can be found HERE.
Parking and Directions
Local Hotel and Lunch Options
Visitors planning to stay the night before can find a list of local hotel accommodations at Visit Rolla.
Dining options can also be found at the Visit Rolla site. More information about the Rolla community can be found here.