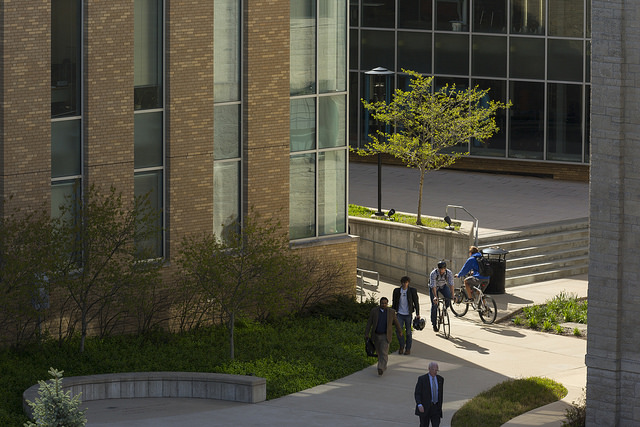 DAILY VISITS
Daily Visits are offered Monday-Friday with the exception of special event days. Daily Visits are approximately 3 hours long and include an admissions presentation, campus and residential life tour, and an academic department visit.
Missouri S&T Daily Visits
Daily Visit Agendas
FAQ's
Parking
Daily Visit Guide
Missouri S&T Daily Visits
Register for a Daily Visit by clicking on the registration button below and selecting a date and time from the calendar.
If you have any questions or would like assistance registering for a daily visit, please contact the Visitor Center at 573-341-6731.
Daily Visit Agendas
DAILY VISIT AGENDA
9:00 AM DAILY VISIT AGENDA (SUBJECT TO CHANGE)
9:00 a.m. - 10:00 a.m. | Campus and Residential Life Tour
10:15 a.m. - 10:45 a.m | Admissions Presentation
11:00 a.m. - 11:45 a.m. | Academic Department Visit
FAQ's
Q: What time do I need to be at my event?
A: Plan to be at the Havener Center 15 minutes prior to your Daily Visit start time.

Q: Where is my event held?
A: Your visit will begin at the Havener Center. Your visit will include different locations across campus.
Q: Do I need to check-in to my event?
A: Yes. You will check-in at the Havener Center.
Q: Can I make changes to my personalized schedule?
A: Daily Visits currently consist of an admissions presentation, department visit, and campus and residential life tour. Please contact the Visit Center (573-341-6731) for more information.

Q: Are meals provided?
A: Meals are not provided at this time. However, there are on-campus dining options available.

Q: What should I wear?
A: Comfortable shoes are recommended. You will be walking to various locations across campus. Please dress appropriately for the weather forecast in Rolla, Missouri (zip code 65401). If it is raining on the day of your visit, we will provide you with a rain poncho.
Q: Where do I park?
A: A parking permit and instructions will be emailed to you once your Daily Visit is confirmed.
Q: Can you provide local hotel and dining accommodations?
A: A Missouri S&T Daily Visit Guide can be found on an above tab.
Q: Can I sign up for S&T campus alerts for my visit?
A: While visiting campus, please text: MinerEvent to 78015 to receive campus emergency alerts. This expires daily at midnight.
Parking
Campus visitors are permitted to park in Lot H37. Accessible parking is also available at the Havener Center.
To avoid a parking ticket violation, campus visitors are required to display their parking pass on the front dash of their vehicle. A parking pass will be emailed to you once your Daily Visit is confirmed.
All metered spaces require payment on campus.
Daily Visit Guide
The Daily Visit Guide includes directions to campus, hotel accommodations, and dining options.